Supporting systems and equipment in Japan and abroad, drawing on many years of experience and expertise
Since its founding in 1979, Toshiba Automation Systems Service Co., Ltd. has been engaged in the maintenance of social infrastructure systems that underpin our daily life, encompassing railway, road, financial, postal and other services. Leveraging Toshiba's banknote processing, image processing, and advanced mechatronics technologies, we offer 24/7 support to our customers in more than 20 countries, including Japan, through our worldwide service network.
Supporting social infrastructure in Japan and abroad, capitalizing on technological capabilities and collaboration
Toshiba Automation Systems Service sells, manufactures, and provides maintenance services for social infrastructure systems used in the railway, road, finance, postal services, and logistics fields.
As a "maintenance expert" supporting stable operation and as a "group of manufacturing professionals," we offer highly reliable social infrastructure services through collaboration among three operations: maintenance, the Call Center, and product assembly.
Backed by high-precision mechatronics technologies, including banknote processing, image processing, and media conveyance, we meet labor-saving needs of society and support our customers in Japan and more than 20 countries and regions overseas.
Offering highly reliable social infrastructure services by combining the strengths and advanced technologies of our three operations
The maintenance operation, which adjusts equipment on site, the Call Center providing technical assistance to customers and customer engineers, and the product assembly operation, which manufactures equipment, collaborate to serve our customers.
All employees involved in each operation are accomplished professionals doing high-quality work to meet the needs of our customers in both manufacturing and maintenance.
This is backed by thorough human resource development and a system for sharing technical information in a proprietary database and vigorously utilizing such information across operations.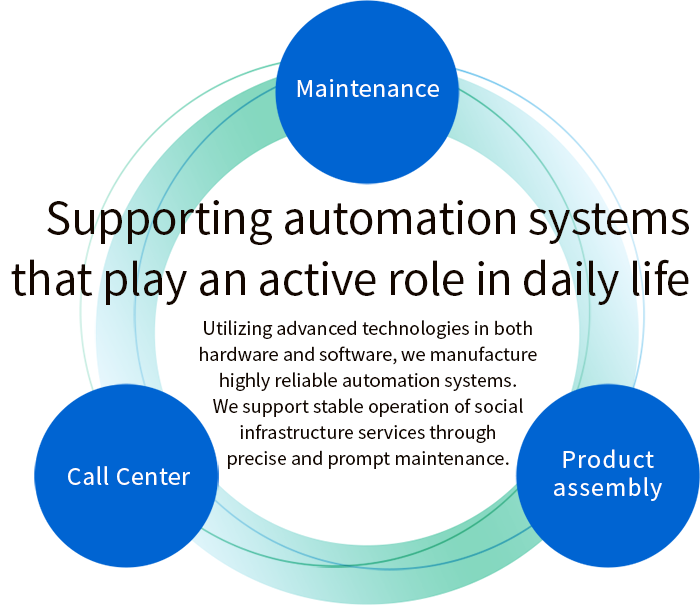 Maintenance

Equipment inspection by customer engineers One-stop repair and instllation service

Call Center

Offers 24/7 assistance to our customers and on-site engineers

Parts Supply

Quickly supplies spare parts across Japan and worldwide from three depots
Contact Us
Feel free to contact us for any inquiry about our service or request for quotation.
Contact Us